Thirst for profit. Uncontrollable greed. They never led a single person to anything good. Any attempt to flirt with fate for money would be a knowingly lost match, even if it brought victory. A person is defeated the moment he begins to experience his life in the face of excitement.
There is a fragile line between a person who is "just" addicted to gambling, betting, and other not the most rewarding things, and a person who has a mental disorder against this background. It is effortless to change from the first to the second. However, the comeback is a matter of much more work. The line is so illusory that sometimes one can doubt whether it exists at all. The Safdie brothers feel this line well. Sometimes even too well.
The plot of the film
A funny man (a beard, out of fashion twenty years ago, protruding upper jaw that makes his smile as amusing as possible, a gilded plate on the belt, massive signet rings, and bright earrings) runs around New York. He dangles non-stop on the phone, switching from one interlocutor to another — now obediently curry favor with them, then growls like an angry dog.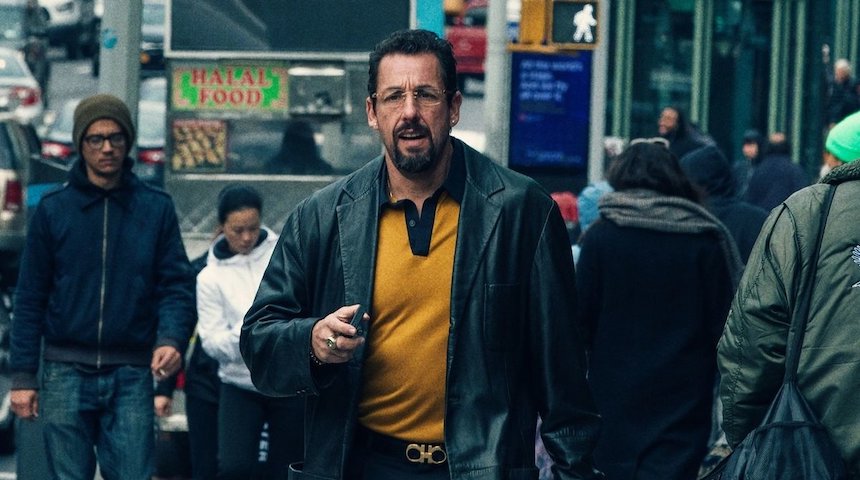 This swindler, in some moments resembling a sad clown, is called Howard Ratner. He owns a small boutique "KMH Gems & Jewelry" in New York's Diamond District, which can only be entered by acquaintanceship. It has no signboard or advertising, and his primary marketing tool is Howard's dark-skinned partner, who is familiar with the rappers and basketball players. They are the direct buyers of expensive trinkets.

Read more:
Three Tips How To Make Smarter Bets And Win
Money Management as the Key to Success in Betting
As befits an inveterate drug addict and gambler, he owes the whole neighborhood — friends, relatives, and even his foes. Howard suffers from addiction. Although everyone around him was aware of this, it was only by the appearance of the first bruises on his face that he began to guess that debts were turning into an unbearable burden. And if Howard doesn't get even with them, he will soon have to dive into the Hudson with stone on his neck.
Why basketball?
The typical gambler, to some extent, addicted to gambling/betting, who thinks he can beat the casino endlessly as long as he is lucky. Sandler plays cool, really frostbitten, crazy psycho guy. Although a Jew-jeweler logically should be much smarter. To bet all the money on the match, and in the multiple bet, at that? When the mafia waylays you at the door and is ready to pull the trigger at any moment. Yes, it's crazy.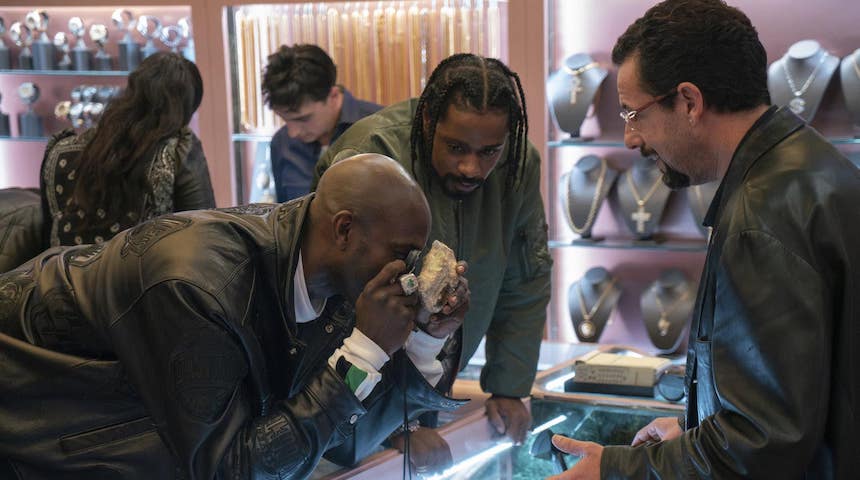 Since selling fake watches and diamond baubles does not go profitable, Howard is continually looking for additional opportunities to earn extra money. One of them is betting on basketball matches. He loves the NBA so much that he physically cannot resist a visit to the bookmaker, because all the "loose" money, even someone else's, instantly slip out of his hands. Like a drug addict, Howard frees streams of exciting ardor, running through his veins, at bookies.
The film perfectly conveys the crazy atmosphere of the metropolis and modern life — permanent stress, double life and nightlife, temptations, gambling addiction, and other phobias, and incessant calls, calls, calls. It is obvious that basketball is chosen for a reason. The film is like one match, you may not like basketball, but emotionally it reflects the movie for 100%.
"Happy end"
Usually, no one expects a happy ending in this type of story. But in the end, "Uncut Gems" surprise you the last time, making the main character an undeservedly delighted person who has found everything he dreamed of: luck, wealth, freedom from problems, and true love. Even if not for long.
Have you liked this text? Find more betting materials in our blog